Tribe Furniture are Making Home Work
With household names such as Twitter and Mastercard announcing that they are allowing staff to work from home indefinitely, more and more management teams are reviewing their home-working policies and following suit.
In any case, offices all over the world are coming to the realisation that even if they wanted 100% of staff back in the office, social distancing guidelines will certainly prevent that in the short term (during immediate response phases many offices can only achieve 25-30% occupancy).
That means that the majority of the workforce will continue to work from their homes and that brings a new challenge for leaders to keep staff healthy, engaged and loyal despite the physical distance from the HQ.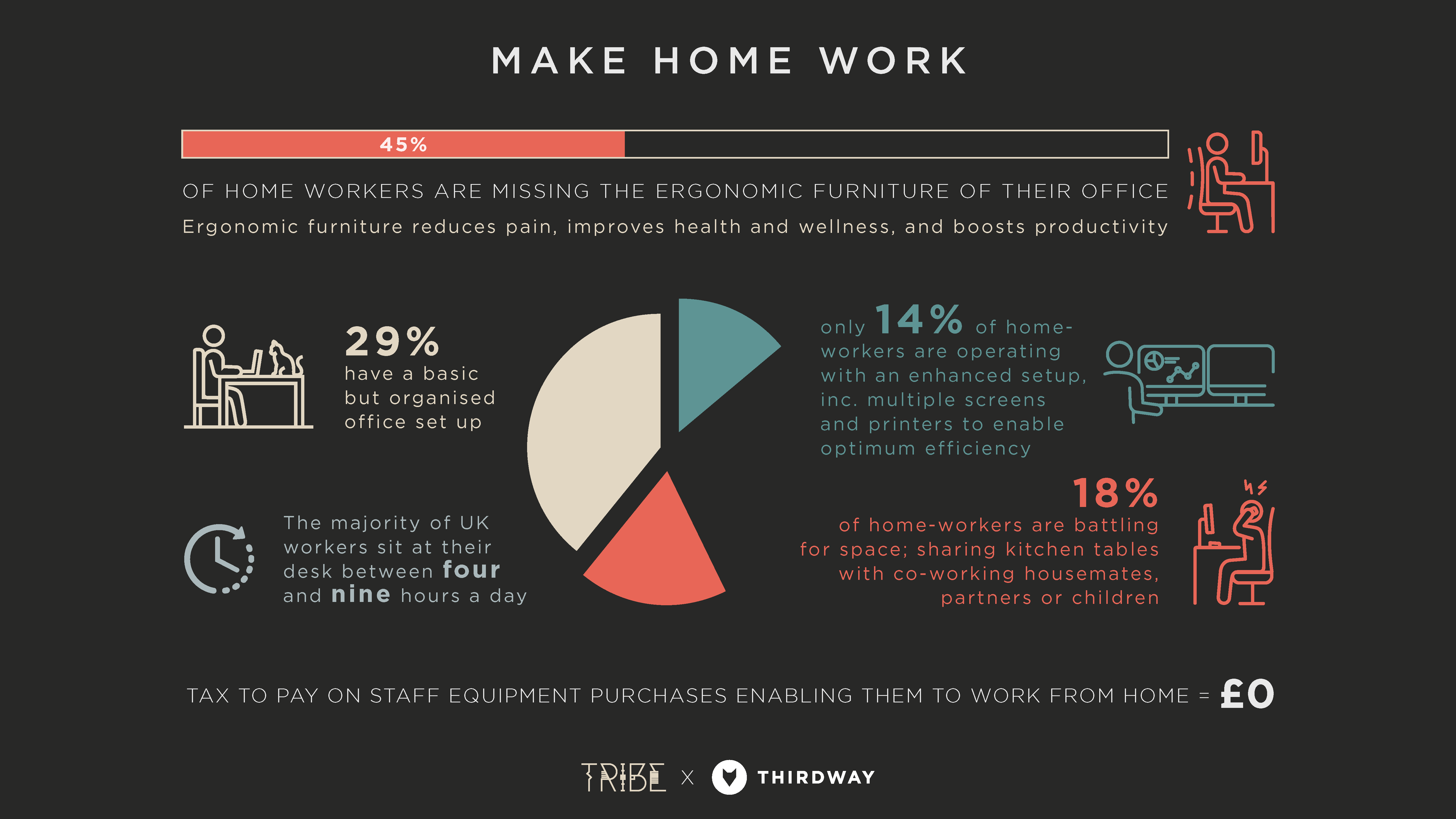 Following our recent research of home-workers, we found that only 14% of 2000 people surveyed are operating with an enhanced set-up at home, while 44% are missing the comfort of their office workstations. Ergonomic desks, chairs, footrests, multiple screens and other workstation accessories can make a huge difference to physical and mental wellbeing, focus and productivity.
With the average office worker spending 6.5 hours a day at their desk, it is better that their mind is on their work and not their discomfort.
Tribe Furniture are working with clients to provide tailored solutions to this issue so staff working at home have easy access to stylish, comfortable and affordable products quickly. Managing Director, Mike McKeown, explains:
"We've been helping by understanding our clients' employees. We've been issuing a quick and easy to use self-assessment survey to help us determine what each person needs. The questions highlight areas of improvement for each employee and this allows us to present products to enhance their home setup based on their individual requirements. There's no 'one size fits all' approach.
We have worked closely with our partners to offer products that are easy to deliver, set up and most of all enhance the employee's work from home experience. The products we have selected are based around ergonomics, technology, value for money and availability (delivered within 2 weeks)."
This month, the Treasury Minister announced that organisations reimbursing staff for equipment purchases enabling them to work from home during the pandemic will not have to pay tax, further encouraging businesses to take responsibility for their employee home offices and ability to fulfil their role in comfort.
For more information, please contact Tribe@tribefurniture.com