Our favourites from Clerkenwell Design Week
Clerkenwell Design Week was bigger and brighter than ever this year, suitably so for its 10th year of celebrating the wonders of the local creative community. With ThirdWay also approaching their 10-year milestone this coming November, it gave us a chance to reflect and appreciate having been within the heart of Clerkenwell's annual celebrations since the very beginning.
During the first few years of the festival, the number of companies opening their showrooms to the innovative hub of Clerkenwell was a humble 30; this has now soared to way over 100 with the addition of 7 exhibitions spaces and over 300 unique events. The week has become a prime opportunity for not only upcoming and emerging talent to make themselves heard but also for companies to showcase and launch new products during a thriving week.
This year, we were looking forward to being part of the week in a different way after having completed two showroom projects in Clerkenwell this year already, both of which were opening up their new spaces to members of the public for the first time during CDW.
Ideal Standard, located within Drapers House, launched on the first day of the festival and lead designer on the project, Lyndsay Blue, was thrilled to see the end product in action during the week; the full case study will be live on our website soon.
ThirdWay Interiors also created a fresh, new workspace-come-showroom for Workstories, which is an extension of the existing space which they had long outgrown. The space encompasses the ground and lower ground levels of Parchment House and has a great street-level presence. Their new workspace was to also function as a sales office to allow Workstories to display their products with pride to clients whilst the showroom provides a gallery ambience, bathed in natural light, creating a welcoming and open environment.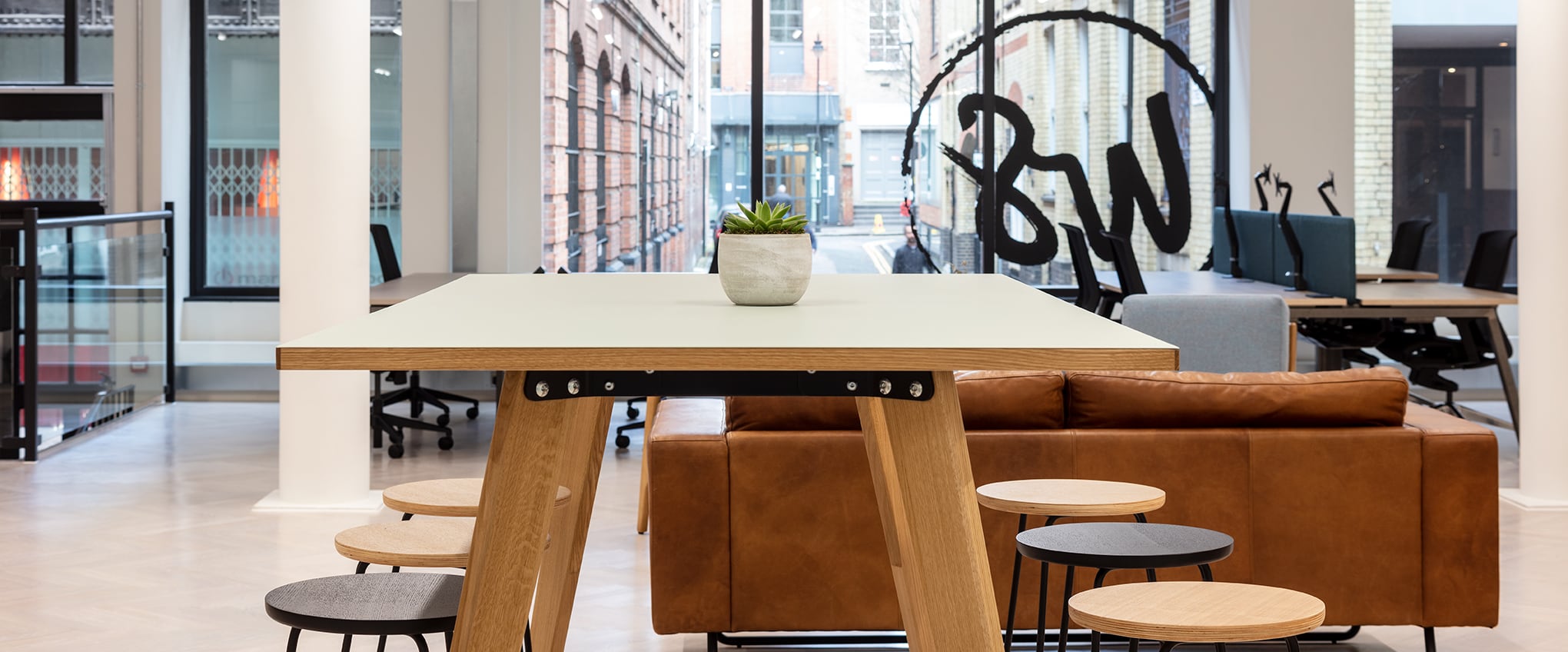 On Wednesday, ThirdWay's design team visited EGE's showroom for a thought-provoking talk with Tom Dixon on his 'Industrial Landscapes' collaboration with the brand. Tom talked about the influence that London's industrial character had on his approach to the carpet collection and referenced his own showroom in The Coal Office, set within the stunning Coal Drop's Yard at King's Cross. He also touched upon finding inspiration both at large and small scales; from London industrial history as a whole, right down to the texture on an individual piece of coal.
Tom believes that the future trends and influences within the world of design will increasingly include the impact on all our senses such as smell, sound and touch. With the ever-growing awareness of well-being and consciousness regarding sustainability, he expects to see more collaboration between the fields of design, science and technology.
We finished off the week by heading over to Design Fields on Thursday to attend a panel discussion hosted by OnOffice's chief editor, Jessica Hametner on wellness in the workplace. We were excited to hear that health and well-being continues to top the list of key concerns when it comes to future trends for workplace design. The session began with a discussion on the connections we share between space and wellness and how it all relates to our ancestry, our roots and to human biology.
Our ancestors lived in forests and caves for over 315,000 years and for the last 50 years we've been isolated from nature. It's been scientifically proven that there is an embedded connection between working spaces and the well-being of those within them. A considered and well-designed space can promote positive psychology and contribute to our overall health, further highlighting the importance that our surroundings play in our day-to-day lives.
Another concern of the 'future workplace' is disruption from co-workers as we move towards more open-plan floorplates and designs with limited thresholds. The panel stressed that acoustics will play an increasingly important role in the effective design of these environments. Clever acoustic design can maximise the potential of employees flourishing within their surroundings as good acoustics have been proven to contribute significantly toward an individual's happiness within the workplace.
Lighting was another primary topic that was discussed and one that was also highlighted in several different design talks during the week. As we continue to bring more of the outside in with current design trends, the panel lay emphasis on the importance of incorporating more natural daylight into workplace designs. As it stands, there's too much poor-quality LED lighting substitutes which are no comparison to the numerous health benefits we reap from natural sunlight.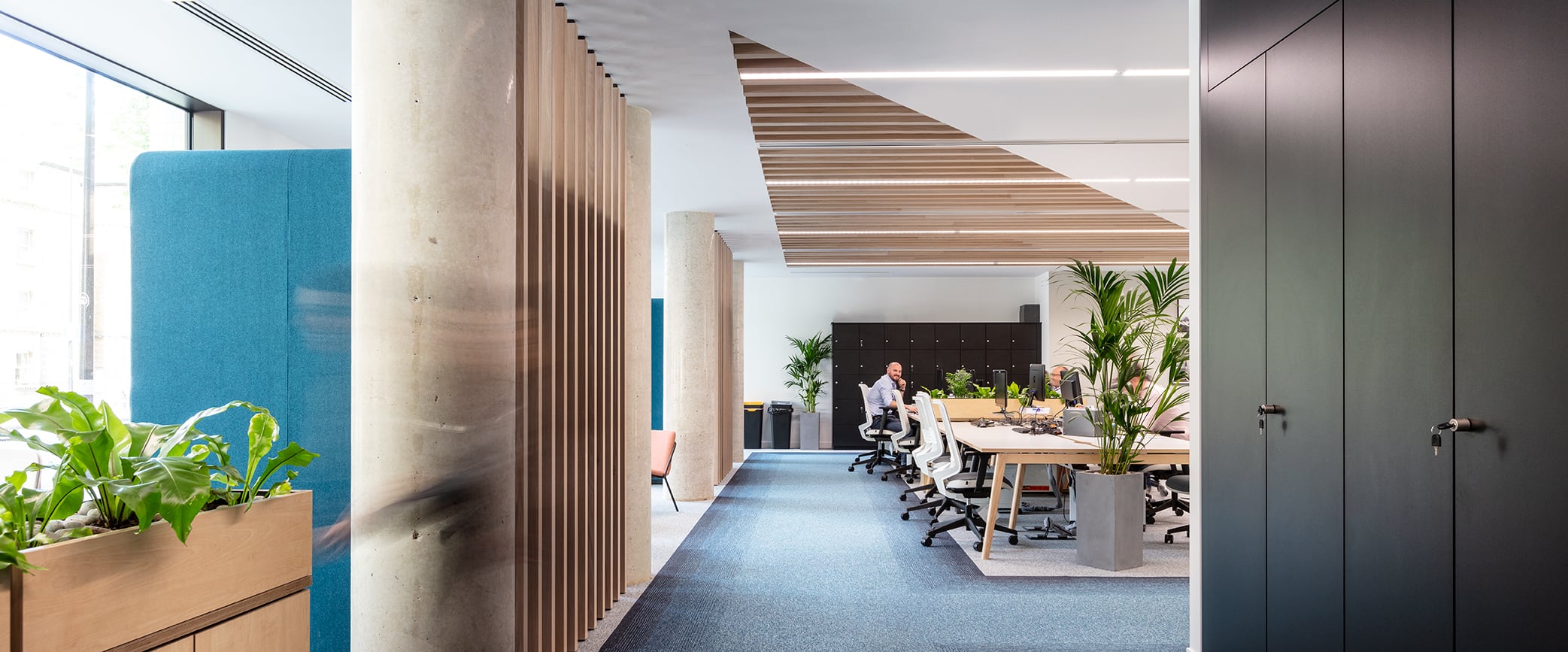 Currently, there are no regulations for lighting within workplace design which led to a synonymous agreement that it's something that companies should implement into wellness strategies. Creating more stimulating and dynamic environments will contribute to improving employee productivity and overall wellness.
With the average human spending over 90% of their lives indoors, workplaces designed with employee's in mind is essential now more than ever. We left OnOffice's talk feeling motivated to continue to keep creating inspiring and positivity-boosting spaces along with the advice "always ask the people", which couldn't be more true.
The festival came to an end for its 10th year in a row with perfectly timed warm weather, sunshine and bustling streets filled with local creatives celebrating together in the heart of Clerkenwell…until next year CDW!