Is the corporate/creative gap in workplace design closing?
Traditionally, if you're a finance company based in London, you would lease an office space in Canary Wharf or at least in the square mile of the city; those working in technology or media industries would head for Clerkenwell, and real estate companies would likely head West. There have habitually been specific areas for specific industries and the lines were clear.
Increasingly now, these lines are being blurred as industries merge and new industries emerge and hybrid-sector workplaces such as fin-tech and legal-tech are beginning to ignore the customary geographical confines.
Businesses across London are not just re-assessing their locations but also the ways in which they are choosing to work. The corporate/creative gap in workplace design and practice is closing and here's how:
Flexibility
Corporate industries such as banking, insurance and legal have traditionally shied away from flexible and agile workspaces, primarily relying on compartmentalised spaces, fixed workstations and cellular working.
However, the demand for innovative workspace within the corporate sector has increased in recent years, with many large firms welcoming a more contemporary office design to help transform the ways in which they are working, sequentially attracting and retaining a different talent demographic.
Wikborg Rein for example, wanted to maintain a cellular layout as a conventional attribute whilst also introducing various current elements such as breakout space, a community kitchen, and booth seats. These features cater to flexible working while providing a space to eat and socialise, enabling the team to work in the most efficient way and achieve a happy work life balance.
Due to the fact that Wikborg Rein's building, located in 30 Cannon Street, wasn't initially designed to be cellularised, there were a lot of awkward spaces to make work.
In any given project, floor-planning is more challenging when the space is cellularised as there is a requirement for more space per person and therefore less space to play with.
To ensure the plan was going to work as the Wikborg Rein expected, and to iron out any issues along the way, ThirdWay marked out the entire floor-plan on the office floor in coloured tape and then invited the client's project team to walk through the space and experience the flow of human traffic in the projected environment.
ThirdWay's design team used their knowledge and expertise to overcome initial obstacles and created a remarkable space for Wikborg Rein that defied conventional corporate office design.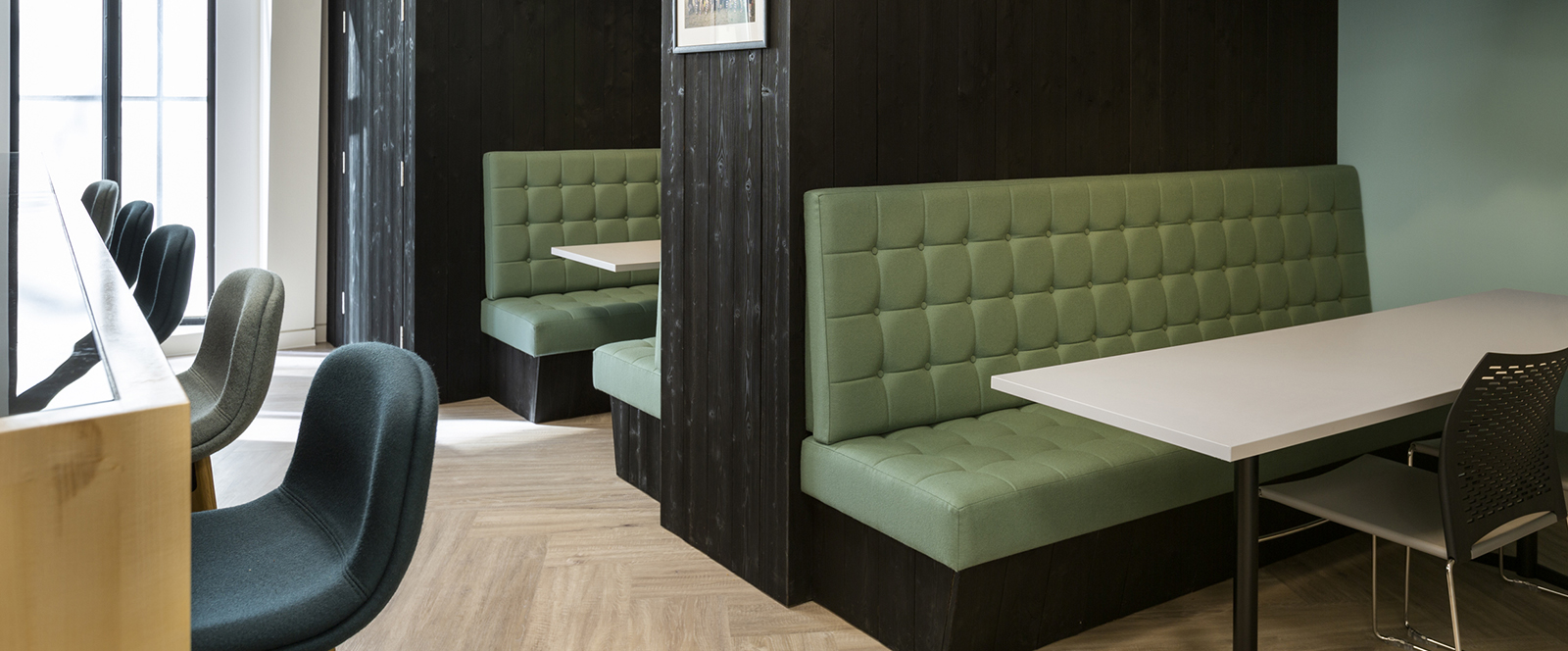 Technology
Technology is undoubtedly driving the way in which we design interiors, with demand moving towards tech-savvy and contemporary workplaces led by innovative sub-sectors such as proptech.
This has also had an impact on the corporate sector with a surge in demand for modern workspaces with integrated technologies such as AI and interactive tools.
When insurance institution Lloyds, renowned for being one of the more traditional sectors acknowledged the need to create innovation labs within their headquarters at 1 Lime Street, they anticipated the blurring the lines between traditional insurance and progressive technology. Without the creation of this centre for innovation, they would not attract the new skillsets required for their workforce.
There are numerous benefits to factoring technology into smarter workplace design including increasing employee's productivity and helping to generate environments that are more intuitive and more environmentally friendly.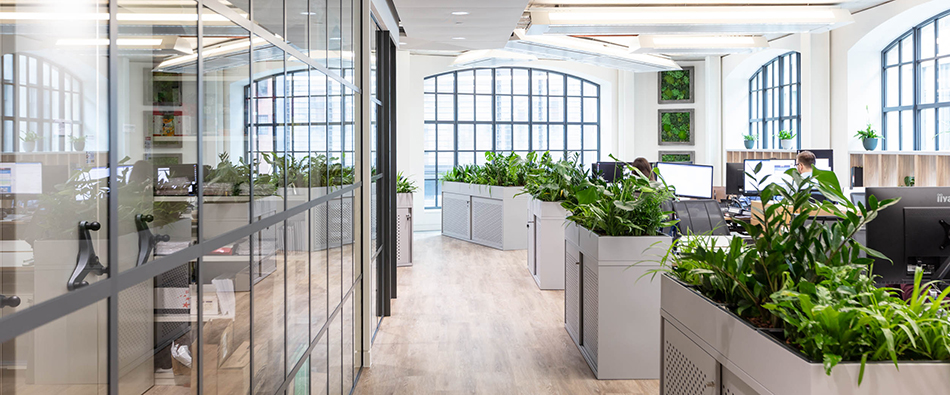 Form & Function
Many corporates have design identities or guidelines to work with, which is exciting from a creative point of view; it's a real challenge to design spaces that are different but also fall within a client's strict parameters.
There are also trends within each specialty, for example trading firms often wish to balance aspirations of modern design with warmer finishes that nod to their heritage, and law firms generally desire sharp aesthetics without looking too 'flash'.
Some clients have a mixture of objectives. Wikborg Rein wanted to celebrate their Scandinavian heritage, to create a contemporary workplace which responded to the flexible and tech-led demands of society, while also maintaining the privacy and security necessary in their line of work.
High brief requirements mean the design of corporate space must be extremely functional but form is often on par. Corporate clients tend to appreciate quality, and see the value in superior finishes and detail.
At Wikborg, whilst some more creative elements have been introduced to the space – a feature bookshelf, a hidden door, and bespoke joinery - they are refined and sophisticated, clean and functional. The focus on aesthetic details were as important as the office's function.
Although corporate spaces will always function differently to creative industries, the aesthetic differences between the two are becoming less obvious. Across all sectors, there is more importance than ever being placed on the employee and what works best for the individual.