5 ways to celebrate + accommodate Neurodiversity in the workplace
Diversity and Inclusion is a current topic at the moment but Neurodiversity might be an unfamiliar term to some. Georgina Reissing from ThirdWay Workplace shares her insight on ways to accommodate Neurodiversity within the workplace.
What is Neurodiversity?
Let's keep this nice and easy...
Neurodiversity is an umbrella term for those who process information differently. The U.K. population is predominantly neurotypical, which means for most, the brain functions and processes information in the way society expects.
Common conditions associated with neurodiversity are Dyslexia, Autism, ADHD, Dyspraxia, Asperger's Syndrome, Dyscalculia, Epilepsy, OCD, Tourette's.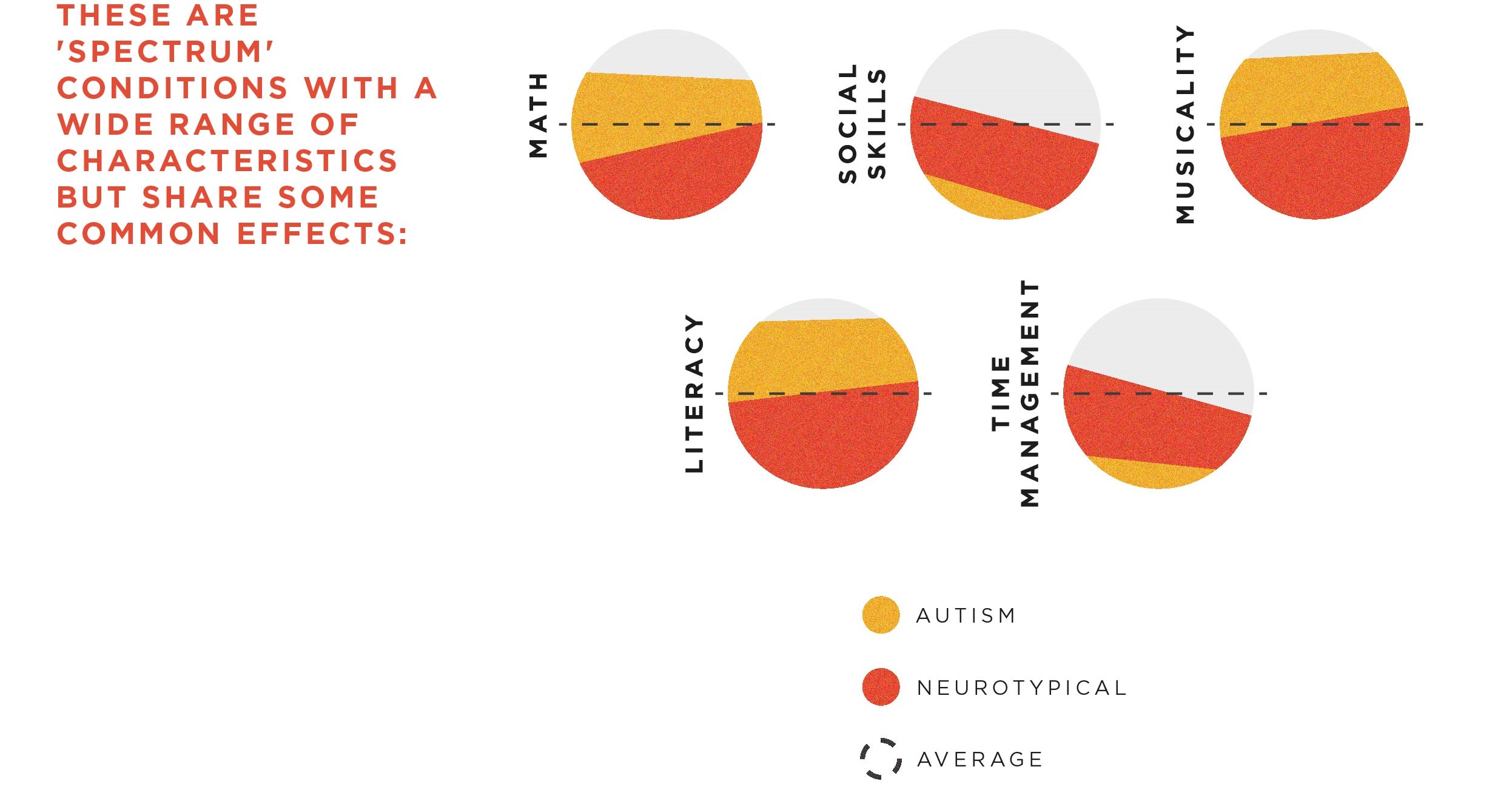 Who does it affect?

Why?
Nearly three-quarters of neurodivergent workers choose not to disclose their condition for fear of discrimination. Half of the workers who do disclose end up regretting that decision.
Employers who fear and exclude those with neurodivergent qualities are missing out. This untapped talent pool can become an integral part of the team.
JPMorgan Chase reported that after 3-6 months of working in its Mortgage Banking technology group, autistic employees were doing the work of people who typically required three years to train—and were 50% more productive.
*PAUSE FOR APPLAUSE*
Design for inclusion
To help your company take the initiative, check out our top five tips:

TIP ONE: OFFER AGILE WORKING
Cater to talent with an adaptable and flexible work-setting. That way, as an employer, you can accommodate everyone that steps through your door no matter the circumstances.
Making small adjustments and offering a variety of work-settings makes all the difference to those who have neurodiversity.
Before Auticon began their Autism at Work program, they missed out on talent. By providing an "autistic-positive work environment and offering highly individualised, sustained support mechanisms"they can guarantee a high standard of work in a timely fashion while also providing well paid, long-term careers for the autistic community.
Agile work-settings you can implement:
Active Zones
Individuals with ADHD tend to find it hard to concentrate for long periods, so allowing them to release energy between tasks will help them to focus when it matters.
Adobe HQ has a two-lane, 150-metre rooftop running track on top of their 16 storey office tower, allowing employees to release energy during the day.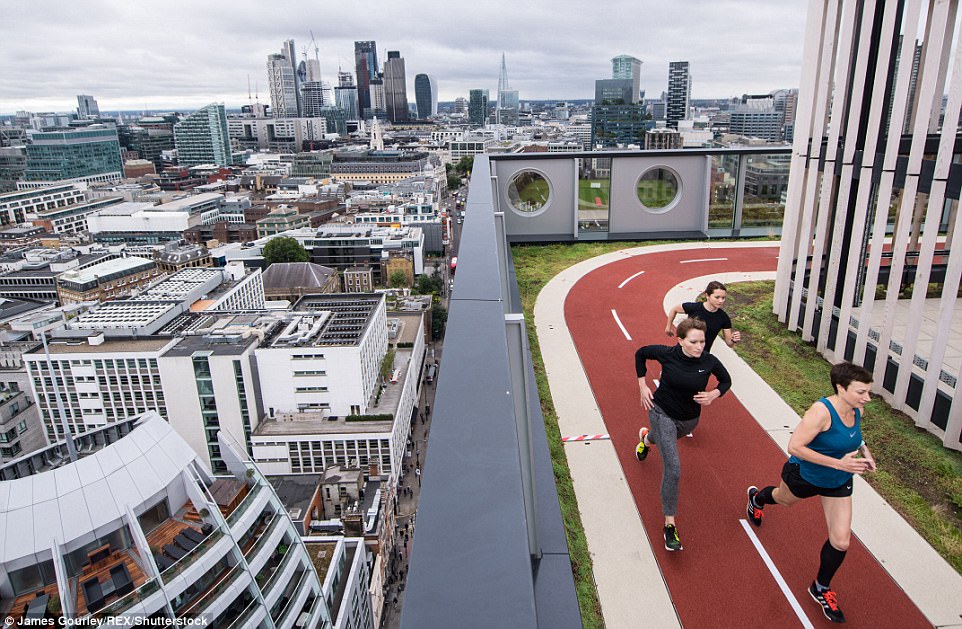 The running track situated on top of Adobe HQ's Old Street office in London, Daily Mail, 2017

Meditation rooms
Downtime during the day will benefit all employees; but, those with Asperger's Syndrome will benefit from 'shush' zones when the day is too overwhelming.
Headspace HQ has meditation pods with an internal screen. This creates a peaceful, immersive experience without complete isolation. It's a great way to offer employees space to take time out during a hectic day.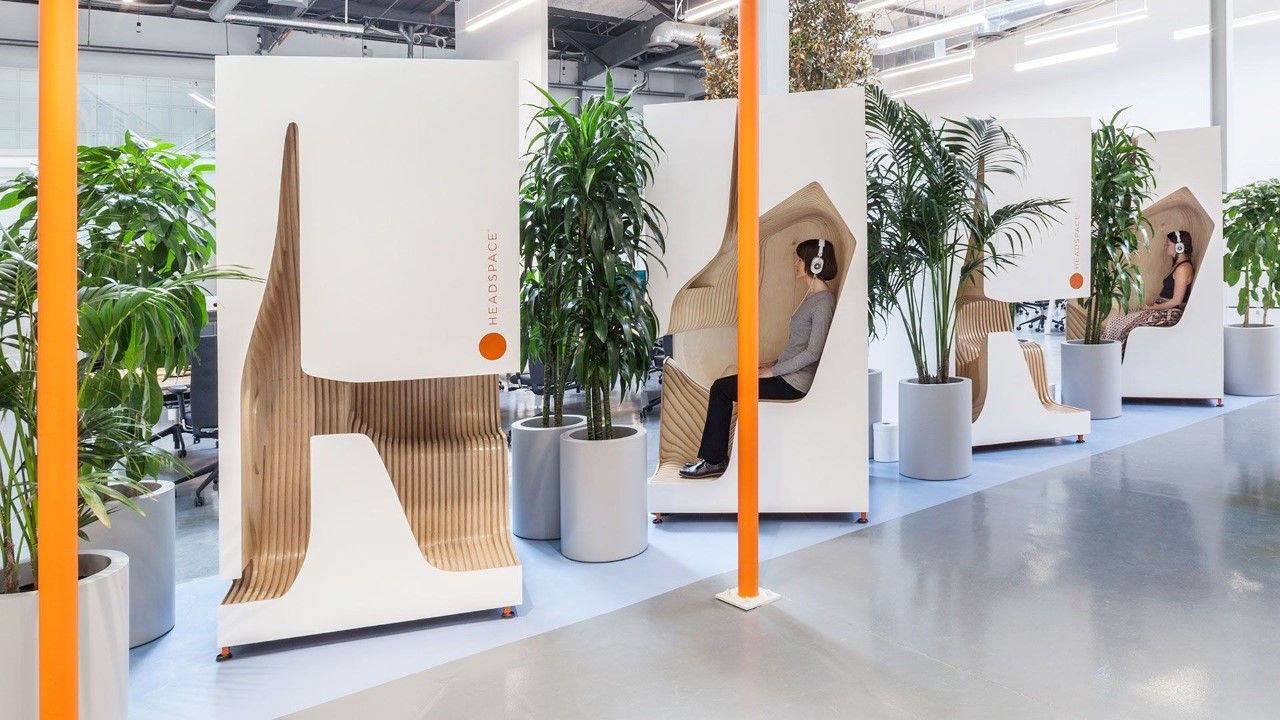 The meditation pods at Headspace HQ, GQ: The new Headspace HQ is the happiest office in the world, 2016
Quiet booths
Those with autism can struggle to concentrate with a lot going on around them. They benefit from a quiet, controlled atmosphere from time to time.
At Totally Money's London office, they have quiet booths available for employees to use for phone calls or focused work while also not shutting themselves off from the world entirely.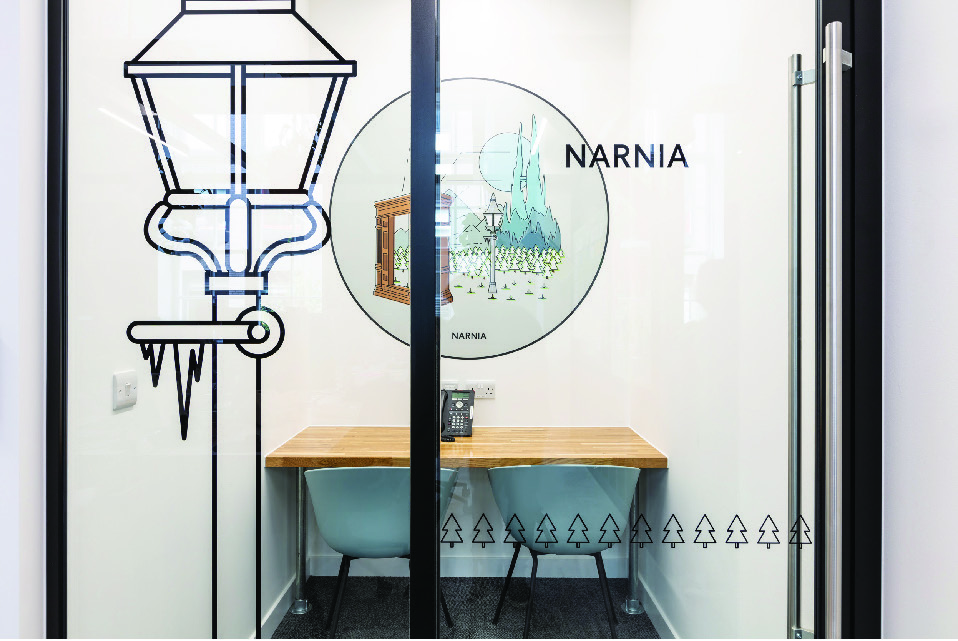 An example of a quiet booth at Totally Money's London office, OfficeLovin': TotallyMoney's New London Office, 2019
TIP TWO: FLEXIBILITY
Offering flexibility to all staff is appreciated, but to those who are neurodiverse, it's invaluable. Cater to your workforce by allowing flexi-time. Working from home and core hours are just a few ideas you could implement.

Why is flexi-time going to help?
For many people who are autistic, travelling in rush hour is an everyday task which is overwhelming and can, sometimes, result in a meltdown. As an employer, you do not want to put your staff through this. Offering flexi-time allows for the individual to push their start time back a couple of hours, missing the morning and evening rush, and arriving to work calm and positive.

TIP THREE: MATERIALS
A clean, crisp and clutter-free environment ensure those easily distracted, such as individuals with ADHD, can't get sidetracked. Use different materials and colour to define zones and activity areas. It will help make space more memorable and useful for those with autism. Acoustic panels can reduce sound pollution coming from social areas (or printers) to offer a calming atmosphere.
A 2016 study in Frontiers in Psychology discovered that specific colours could be oppressive to those with a Neurodiverse condition. Yellow is the most sensory-loaded colour and can be punishing for those with autism — if sensory stimulation is already enhanced, this is detrimental to your productivity (Quito, 2019).

TOP TIP FOUR: AWARENESS
Educating staff on neurodiversity and how each condition affects an individual, raises awareness. It will encourage neurotypical staff to broaden their knowledge of potential colleagues.
And from a new employee point of view — going into a company, which is transparent and welcoming to all, is a refreshing approach that takes away a few of those first-day jitters. Consider putting a buddy system in place for neurodivergent employees to ease them in, without adding to their first day nerves.
Autistic individuals are prone to feeling anxious or overwhelmed at work. Having trained employees on-site who understand and can help is beneficial to all.

TOP TIP FIVE: WAYFINDING
Many neurodivergent individuals thrive on repetition and predictability. Having clear and straightforward wayfinding cues throughout your workplace can help people feel safe and in control. Landmarks such as a statement staircase or a mezzanine can help individuals orient themselves, which leads to self-sufficient behaviour and confidence within the workplace. Wayfinding can come in many forms; architectural elements, graphics, colours or even light. The use of colour at Convene's LA coworking space allows simple wayfinding. Saying 'Let's meet at the blue pod' is more approachable to an individual with neurodiversity than saying, 'Let's meet in Room 18B'.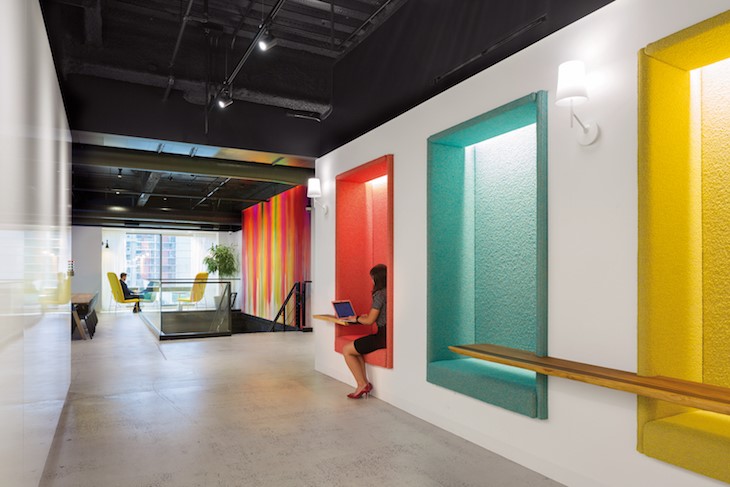 At Convene's, their colourful pods help individuals orientate themselves in their workspace in a simple and practical way, WorkDesign Magazine: Designing For Neurodiversity And Inclusion, 2018

WHAT ARE WE DOING?
Here at ThirdWay, we strive to be the 'Best Company to Work For' and naturally, inclusion and diversity falls under that.
We are currently:
● Researching into all aspects of neurodiversity
● Sharing awareness/educational talks that revolve around neurodiversity
● Looking into the recruitment process to make it accessible to all
● Carrying out a survey across the whole group
● Looking into design for inclusion; both for ThirdWay and our clients.

Stay tuned to hear more about neurodiversity in the coming months.

References
Auticon. (2020). Why Auticon. Retrieved from Auticon: https://auticon.co.uk/our-services/
Quito, A. (2019, 11 06). Designing for Neurodiversity: Does the color of your office walls promote neurodiversity? Retrieved 01 29, 2020, from Quartz at Work: https://qz.com/work/1741745/how-to-design-an-office-that-champions-neurodiversity/
HOK Group. (2019). Designing a Neurodiverse Workplace. HOK Group.
ACAS Working for Everyone. (N/A). Neurodiversity in the workplace. Retrieved from ACAS: https://archive.acas.org.uk/neurodiversity
CIPD. (2018). Neurodiversity at Work. CIPD.